Wed, 12:00 PM / May 20, 2020
Investor 360 Webinar with Petra Griffith of Wedbush Ventures
Join us to listen to an investor talk investment thesis, current investment climate and more. Company founders will have the opportunity to ask the investor questions at the end of the webinar.
This month we have Petra Griffith of Wedbush Ventures.
Wedbush Ventures is an early-stage venture fund investing in seed and pre-seed stage companies founded by entrepreneurs with unique insights into a problem, and a thoughtful way to solve it. Seeded by Wedbush Capital, a leader in the financial services industry since 1955, Wedbush Ventures brings a wealth of connections, operational expertise at the early stage, and long-term support to companies transforming their industries. www.wedbushventures.com
Petra Griffith brings over 20 years' experience of incubating and innovating products with major technology brands (including Netflix, Yahoo, and 24 Hour Fitness) as well as startups (zulusports, iPrint, apex fitness). She has seen what it takes to identify product-market fit and successfully execute against a vision. Petra's passion for early-stage businesses led her to establish the start-up and venture banking division at the regional bank Grandpoint Bank which provided debt capital to venture-backed businesses and their investors. Petra founded Wedbush Ventures to bring her product strategy and banking background to identify, invest in, and partner with founders who are building market defining companies.
Agenda
12:00-12:45 PM – Presentation
12:45 – 1:15 PM – Q&A with investor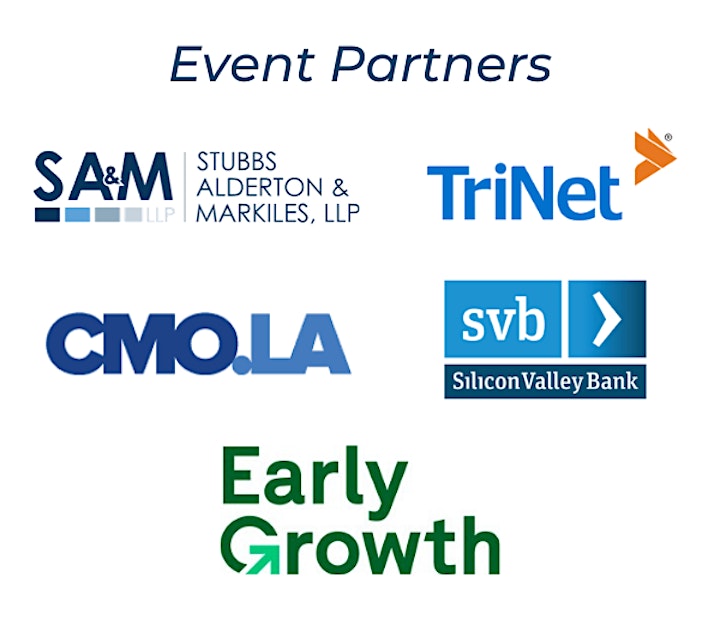 About Stubbs Alderton & Markiles, LLP
Stubbs Alderton & Markiles, LLP is a business law firm with robust corporate, public securities, mergers and acquisitions, entertainment, intellectual property, brand protection and business litigation practice groups focusing on the representation of, among others, venture backed emerging growth companies, middle market public companies, large technology companies, entertainment and digital media companies, investors, venture capital funds, investment bankers and underwriters. The firm's clients represent the full spectrum of Southern California business with a concentration in the technology, entertainment, videogame, apparel and medical device sectors. Our mission is to provide technically excellent legal services in a consistent, highly-responsive and service-oriented manner with an entrepreneurial and practical business perspective. These principles are the hallmarks of our Firm.